By Product Expert | Posted in Nissan Sentra on Monday, December 9th, 2019 at 6:31 pm
For the new decade, the Nissan Sentra sees a timely redesign over the previous model year. This redesign happens to follow a crowd of 2019 redesigns from Toyota, Mazda, and Kia's small sedan offerings. After being somewhat overlooked in previous iterations, the new 2020 Nissan Sentra, landing in January 2020 
will
 give the brand a bigger share of recognition among its small sedan competition.
The 2020 Nissan Sentra Front Bumper Redesign
The redesigned 2020 Nissan Sentra has a better curb appeal than the year before. The front fascia of the new model year is sharper, more angular, and more linear. The fog lights and headlights are narrow, wide, and angled slightly downward for a more aggressive, sportier look. The front grille fits up tighter to the headlights and displays the Nissan logo with a bolder design. The overall flow of the new design creates a sort of "X" shape which, combined with all other cosmetic changes, serves to turn the Sentra into something more akin to the current Dodge Charger sedans than a Camry, Fusion, or Civic. With a few two-tone paint options, the Sentra looks more tenacious than ever. 
The 2020 Nissan Sentra Interior Redesign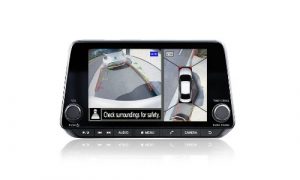 The outside wasn't the only thing that changed with the 2020 redesign of the Nissan Sentra. Inside, the 2020 Nissan Sentra comes with available leather seats with orange stitching to match the outer sporty design change. Simulated carbon fiber accents combine with circular vents to make for a futuristic aesthetic while keeping a bit of a retro touch. The infotainment screen is housed in a sort of hood, shaped around the knobs on the sides, with a row of buttons below the screen. This hood design comes free from the dashboard on the top end, making it almost look like a tablet set into a compartment. 
2020 Nissan Rogue Sport Redesign
Try the Redesigned 2020 Nissan Sentra in McAllen, TX
If you want to take the redesigned 2020 Nissan Sentra for a test drive, be sure to stop by Charlie Clark Nissan in Harlingen, Texas after its launch in January 2020 and schedule a test drive. If you can't make it in person, feel free to contact us online or over the phone. Our sales staff is eager to meet you and find the right Nissan for your needs.