By Product Expert | Posted in Nissan Rogue on Friday, August 17th, 2018 at 9:54 pm
SUV shoppers, like any other car customers, have certain expectations for their vehicles. The crossover or SUV in question must have good fuel economy, high-tech features, good warranties, etc. In addition to these examples, a top priority for many SUV shoppers is cargo space. Furthermore, the more people in the household, the more space they'll need. After all, everyone will want to have plenty of room for all their must-have luggage, gear, etc. Simply put, if a car can't accommodate everyone's stuff, then there's no way it's coming home them. So, how much cargo space is in the 2018 Nissan Rogue?

Read more: What are the 2018 Nissan Rogue Sport Performance Specs?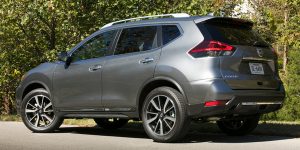 2018 Nissan Rogue passenger and cargo volume measurements
Before we dive into the 2018 Nissan Rogue passenger and cargo volume measurements, please note that the amount of cargo space available depends on whether the rear seats are upright or folded down. When they're upright, the 2018 Rogue can accommodate up to 39.3 cubic feet of cargo. When they are folded down, however, that number quickly increases to 70 cubic feet. As for you and your crew, the 2018 Nissan Rogue has a spacious interior passenger volume of 105.8 cubic feet. Simply put, the Rogue has more than enough room for you, your crew, and all of your stuff, too!
Read more: Pictures of the 2018 Nissan Rogue exterior paint colors
We were happy to answer your question, "How much cargo space is in the 2018 Nissan Rogue?" Want to see all of its available space in person? Schedule a test drive at Charlie Clark Nissan Harlingen! Or, if you're not certain that the Rogue is for you, then feel free to explore all of the other models in our new Nissan inventory. If there's anything else that we can do to make your shopping experience better, just contact us and let us know. Whatever you may need, we are always happy to help.
We hope to hear from you soon!